Matlab's Kangaroo Mother Care: Saving Lives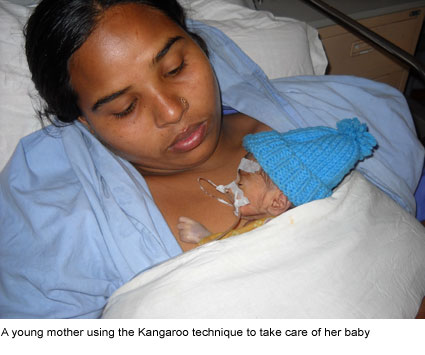 At 26 weeks pregnant, the last thing Selina remembered was the look on her mother-in-law's face as she slipped and fell. "I hadn't noticed the puddle of water as I was carrying something heavy, and I simply slipped. Even as I was falling down, my only thought was, 'Please, God, let my baby be alright'," recalled Selina. While unconscious, the 19-year-old Selina was taken to the Kangaroo Mother Care (KMC) ward at icddr,b's Matlab Health Research Centre (MHRC) in the Chandpur district. There she delivered her second child, daughter Sharmin, three months premature.
In the beginning
icddr,b introduced the KMC ward in 2007 as part of its maternal, neonatal and child health project to minimise neonatal mortality in the region. Lack of facilities equipped to care for premature children like Sharmin meant that neonatal mortality was climbing at an alarming rate. "The KMC ward was established as part of our programme to increase the quality of health of mothers and their children. We were specifically interested in stemming the deaths of seriously premature babies and their mothers," explained MHRC Head Dr. Anisur Rahman.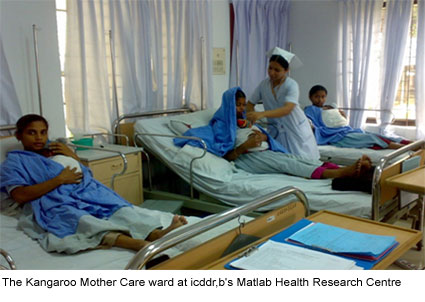 The programme is based on modifications to the traditional care of premature and low birth weight babies made by doctors Héctor Martínez Gómez and Edgar Rey Sanabria at the Maternal-Infant Institute of Bogotá in Colombia during the late 1970s. Their method was coined the "Mother Kangaroo Programme" because it emulates the way that a kangaroo carries her baby after birth.
In most hospitals in Bangladesh, mothers who deliver prematurely have to rely on the regional public hospitals, which were not equipped to address their special needs. As a result, mortality rates of premature babies and their mothers were high—at least one in 10 infants in Bangladesh are born premature and these account for 27 percent of the total neonatal death. Adoption of the KMC technique addressed a long-standing and neglected national maternal health issue. "The KMC ward has been so successful that we now treat eight to 10 mothers with premature babies every month," said Dr. Rahman.
Hold on tightly
"When I came to, the nurse told me that I was in Matlab Hospital and had already delivered. My baby, Sharmin, was safe, but I was told she was not doing well at all. When I first saw her, I was petrified; how something so tiny could survive?" recalled Selina.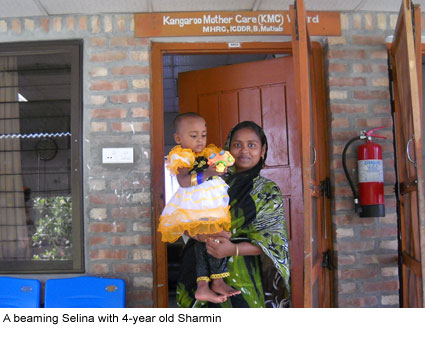 Almost all seriously premature babies are born perilously underweight and require immediate attention:warmth, feeding, hygiene, and prompt identification and treatment of complications. "At KMC, the mother acts like an incubator with the baby held close to her body and the baby is retained in this position, except for short breaks for bathing, nappy changing, or when the mother is attending to her personal tasks," said Dr. Rahman.
"The Kangaroo method facilitates on-demand breastfeeding, increases the mother-baby bond and keeps the baby warm by transmitting the mother's body temperature to its body. During these times, the father or other relatives may also assist in keeping the baby warm with skin-to-skin contact," explained Dr. Rahman.
Knowledge translation
The success of the KMC ward in Matlab inspired its medical officers to help establish KMC wards at Lamb Hospital in Dinajpur, Bangladesh, and abroad at Uong Bi Hospital in Vietnam. In addition to sharing the KMC ward model, Matlab staff members enhance their own skills through training in countries like Kenya, which has adopted KMC in hospitals nationwide and is a global knowledge hub for doctors interested in learning about this technique.
When the medical officers return, they share that knowledge with other health service providers, both at Matlab and at other national hospitals in Bangladesh. Through participation in the programme, community health workers and caregivers who accompany patients to the KMC ward share that knowledge.
At first, I just felt lost; I even felt like rejecting my baby. But my nurse was very patient. She explained that Sharmin needed special attention from me and showed me the 'kangaroo technique'—where I held my baby close to my skin several hours a day," said Selina. This helped maintain her body temperature and, at the same time, helped me breastfeed her as well. After a couple of days, Sharmin began to move and cry out for me. I felt so relieved!"
In June 2011, Sharmin celebrated her third birthday with staff from the KMC ward. Dr. Rahman believes that the KMC practices in Matlab eventually will lead to adoption of the technique by all major hospitals in Bangladesh.